Liverpool City Council has been allocated funding by the Department of Education to provide holiday activities and healthy food for children.
The focus of the programme is on children eligible for benefits-related free school meals.  Local authorities are asked to ensure that the offer of free holiday club provision is available for all children eligible for free school meals although it is accepted that not all eligible children will choose to participate.
Merseyside Play Action Council, in partnership with LCVS, have been awarded the contract to deliver the HAF programme in Liverpool.
The aim of the programme is to make free places available to children eligible for free school meals for the equivalent of at least four hours a day, four days a week and for six weeks a year and would help children and young people:
To eat more healthily over the school holidays (programmes will be expected to work towards the school food standards as part of the programme)
To be more active during the school holidays
To take part in engaging and enriching activates which support the development of resilience, character, and well-being along with their wider education attainment
To be safe and not to be socially isolated
To have greater knowledge of health nutrition; and
To be more engaged with school and other local services.
This is a great opportunity to get children and young people involved in local activities – and after the year and a bit we have all had, it's really important that get our local communities moving again.
Colin Heaney – HAF Coordinator
colin.heaney@merseyplay.com
Click HERE for the map of Half Term Play & Activity Providers
Click HERE for full list of Providers

#FABFeb
FREE activities and food for 5-16 year olds during the February half term
Click here for more information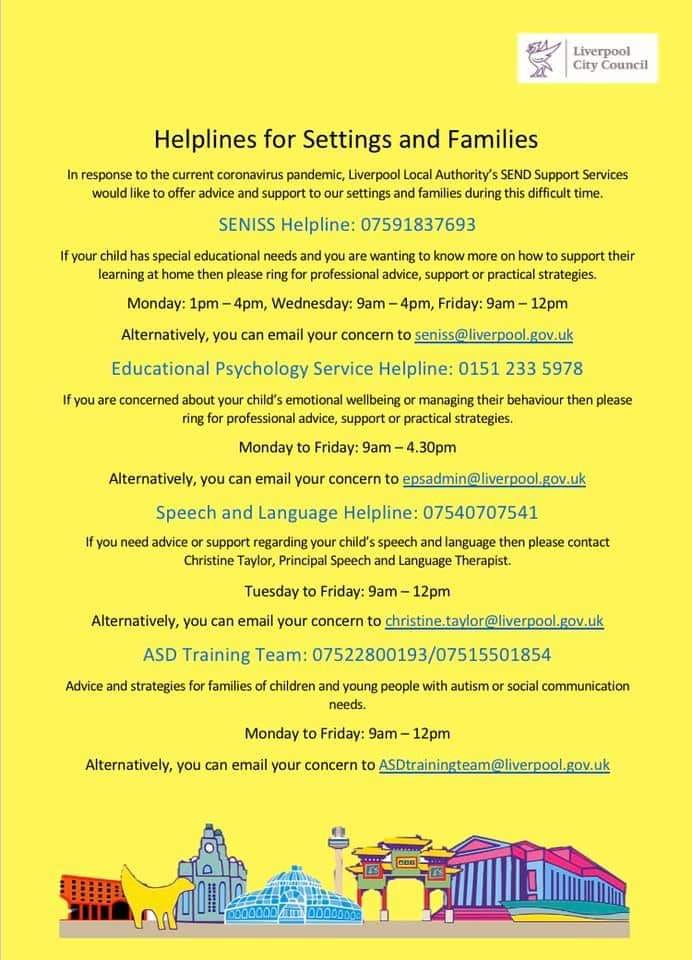 Food and Essentials
Local groups and organisations providing low cost / free food and essentials
Click here for a map of community food spaces
MYA Food Bank
For young people under 25. Wed 1pm – 3pm. No referrals needed. https://twitter.com/FoodBank_MYA
Feeding Liverpool
Feeding Liverpool has set up Pantries, Community Markets and Community Shops Map http://www.feedingliverpool.org/resources
Micah Liverpool
https://micahliverpool.com/our-food-bank/
Tel: 0151 702 7206
The Brain Charity
For anyone with neurological conditions they can arrange to bring food supplies/cooked meals, collect prescriptions, get gas/electric meter top ups or access any other community-based services.
info@thebraincharity.org.uk Tel: 0800 008 6417
North Liverpool Foodbank
https://northliverpool.foodbank.org.uk/locations/
Tel: 0151 226 3406
jo@standrewslive.org.uk
South Liverpool Foodbank 
http://southliverpool.foodbank.org.uk/locations/ 
Tel: 0151 281 9716 admin@slfoodbank.org
Speke – The Place to Be Foodbank
Open Monday and Tuesday 10-11am at 10 Eastern Avenue, L24 2TA. You don't need a voucher just come along. 1 person at a time.
https://www.spekecofe.org.uk/  Tel: 07365 279983
New Beginnings Improving Lives 'Filling the Gap'
Food parcels to the extremely vulnerable. Delivery on Friday.
Referrals to newbeginningsimprovinglives@gmail.com  Tel: 07521 453600
Our House, Walton Community Hub – 'HOPE' Pantry – Wed 1pm – 3pm 10 Items – £3.50 or 15 Items – £5.00 per week, Delivery – £2.00
https://ourhouse-walton.co.uk/hope-pantry  Tel: 0151 521 7722  ourhousewch@gmail.com
Everton in the Community: Blue Family
Supporting socially isolated and at-risk members of society during the coronavirus pandemic – Essential food parcels distribution etc. Everton and beyond.
https://www.evertonfc.com/bluefamily
Referral form link https://www.evertonfc.com/bluefamily/referral
Your Local Pantry St George's
For Everton ward residents. Open Friday 8.45-11.00am. Delivery can be arranged over the phone. Tel: 0151 226 3406   stgeorgespantry@outlook.com
St Michael's Irish Centre
6 Boundary Lane L6 5JG. Shop open as of 5/11/20 Mon & Thu 10-4, Tue & Wed 12-8, Fri 4-8, Sat and Sun 2 – 6. Changeable so check with the Centre before turning up. Tel: 0151 237 3987  or 0151 263 1808  info@stmichaelsirishcentre.org
Liverpool 6 Community Centre Food Union
Open to everyone, open Monday – Friday. Membership £1, 15 items £7.50, 20 items £10, 30 items £15. How to join/order/collect – Delivery with a small fee. https://liverpool6community.wixsite.com/website
Tel: 0151 260 1297
Your Local Pantry Kensington
Tuesday 12.30pm – 3.30pm, weekly subscription £3.50. Open to Kensington residents. Delivery can be arranged as of Nov 2020.
https://www.yourlocalpantry.co.uk/find-a-pantry/kensington-pantry/
Tel: 0151 708 9107    kfcasue@talk21.com
The Florrie Lockdown Food Parcels
For anyone in L8 who needs them. Mon-Fri 12-3pm, pick up only, sign up online or at the centre
Tel:0151 728 2323   https://www.theflorrie.org/  ben@theflorrie.org
Walton Vale Community Food Shop
Tuesday 1.30-3.30 Weekly membership £3.50 for approx £15 worth of shopping. Sign up at the Perfect Homes Shop in Walton Vale (next to the Post Office) with a proof of address (e.g. utility bill, bank statement driving licence)
https://twitter.com/WarbreckLabour
Fazakerley Federation Foodbank and Community Kitchen
(Mon-Fri 9am-3pm)
https://www.facebook.com/Fazakerley-Community-Fed-574346422721425/
Tel: 0151 523 1073    fazfed@hotmail.co.uk
Croxteth Family Matters
Food pantry open from 9am weekdays but check
Tel: 0151 546 3974
https://www.facebook.com/Croxteth-Family-Matters-257893004739711/?ref=py_c
Your Local Pantry Millennium Mobile Pantry
West Derby L12, £3.50 weekly subscription. Fri 11-1. https://www.yourlocalpantry.co.uk/millennium-mobile-pantry/
Tel: 0151 256 0022   smmcwestderby@outlook.com
Your Local Pantry St Andrew's Clubmoor
Delivery only pantry scheme £3.50 per week. Tel: 0151 944 2111 or email louisawanless@ykids.co.uk
Community Food Partnership (Knotty Ash)
email knottyashcfp@gmail.com stating your name, address, whether you are self-isolating with or without symptoms and how many people are in your property. Collection only Mondays £3.50 per week.
Tuebrook Hope Group
Emergency food parcels to the medically vulnerable to coronavirus. Email northwestliberalparty@hotmail.co.uk with name, address, age, medical condition, any diet needs/allergies.
The Joseph Lappin Centre
Food Club Tue 12-2pm £3.50 for 10 items
Tel: 0151 222 3507 thejosephlappincentre@gmail.com
https://www.thejosephlappincentre.com/
The Drive Community Hub on Finch Lane
Food Club Wednesdays and Fridays 12.30pm to 2.00pm. £3.50 per visit, an extra 5 items for £5. Bring proof of address for your first visit. https://twitter.com/TheDrive_L14
Everyone's Aigburth Food Club
Open to anyone who lives or works in or near Aigburth. £3.50 per week for 10 items of groceries including fresh produce and household products. Wed 1-3pm
everyonesaigburth@gmail.com
https://www.everyonesaigburth.co.uk/
Strawberry Field – Support and Online Activities
Food parcels Tel: 0151 252 6130
https://www.strawberryfieldliverpool.com/
Mental Health Support
The Life Rooms
Are you a parent? Do you need any help or support Pathways Support Service can help. Call them on 0151 478 6556 (Liverpool), 01704 383 198 (Sefton) or email liferooms.support@merseycare.nhs.uk
CAMHS Crisis Care @ Alder Hey
Our crisis team supports under 18s in Liverpool & Sefton needing urgent advice & support with their mental health. We're now operating 24 hours a day, 7 days a week. Don't hesitate, call us today: 0151 293 3577 & 08081 963 550.
Kooth
Kooth is an online mental health and wellbeing community. Free, safe and anonymous support for children and young people aged 10-25 in Liverpool. A member of the Liverpool CAMHS Partnership.
www.kooth.com
YPAS Liverpool
Providing mental health and emotional wellbeing services for Liverpool's children, young people and families www.ypas.org.uk
support@ypas.org.uk  Tel: 0151 707 1025
HOPELINEUK
If you are having thoughts of suicide or are concerned for a young person who might be you can contact HOPELINEUK for confidential support and practical advice.
https://www.papyrus-uk.org/hopelineuk/
Call: 0800 068 4141   Text: 07860039967   Email: pat@papyrus-uk.org Opening hours:  9am – midnight every day of the year (Weekends and Bank Holidays included)
SEND support
ADHD Foundation resources
https://www.adhdfoundation.org.uk/information/parents/
LivPac
Resources | LivPac
Empowering parents and carers to have a voice and enable them to navigate the special educational needs and / or disabilities processes through awareness, information and confidence training.
Autism Adventures
Autism Adventures UK Ltd (liverpoolautismadventures.co.uk)
Autism In Motion
https://www.aimautism.com/
---
Information for Parents, Carers and Families
https://www.thelivewelldirectory.com/